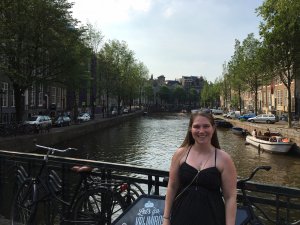 While this will be shared in our Dec 1st Newsletter. We wanted to share it with you a little early!
Welcome back to Staff Spotlight! We are so excited to introduce you to the newest member of our team Allison! We are so happy to have her with us! Allison has been with us just over a month and works as our Administrative Coordinator.
So we sat down with Allison to get to know her a little bit better. What is the best part of her day we asked, "That each day is different and I have something different to do each day and really enjoy the variety of tasks that come with my job. Also, my awesome coworkers make this job great!"
We really have a great and diverse team here at BBBSOLA! So what is Allison's favourite food? Well some of you may have heard of Tony's Famous Italian Restaurant which servers her favorite Panzerotti's! Sounds yummy! Doesn't that make you hungry?
So Allison, why don't you tell us about your dream vacation? "My dream vacation would be to go back to New Zealand and spend 6 weeks travelling the country in a camper van!"
Doesn't that sound like a ton of fun!
Thank you Allison for sitting down with us and stay tuned for another Staff Spotlight!