Fred J. Watkins Scholarship Program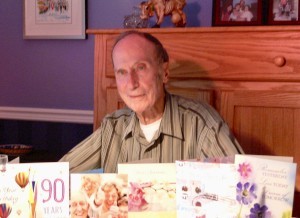 The Fred J. Watkins Scholarship Program was established in spring of 2021 with funds bequeathed by Fred Watkins who died in his 93rd year on March 24, 2020.
Fred spent his career as an accountant in Toronto. He was fascinated with making money on the stock market and while he excelled at this, he was also a very humble and down-to-earth man. Because of this, he knew that when he passed he would be in the positon to leave behind a legacy for others.
Fred wanted his legacy to be the gift of a bright future for children with limited means to pursue a post-secondary education. Prior to his passing, he established a foundation to do exactly this.
After Fred's death, his life-partner Ralph Topp approached us about working together to make Fred's wishes come true. One of BBBSOLA's Big 3 outcomes is to improve the educational engagement and employment readiness of young people who are facing adversity, which made us an ideal partner.
"It is the personal nature of BBBSOLA's programs that attracted the Fred J. Watkins Scholarship Program to this organization," said Ralph. "The fact that the mentors get to know and care so much about their Littles, who become the scholarship recipients, is very comforting to me as I know it would be to Fred."
It is a sincere privilege for BBBSOLA to be offering the Fred J. Watkins Scholarship Program to our Littles. For those who meet the criteria and become scholarship recipients, we know how grateful you are for this extraordinary opportunity – and the extraordinary man who made it possible.