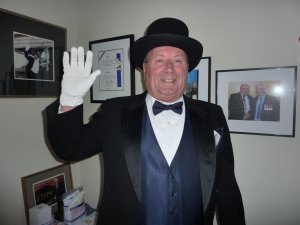 If you have been to either our Big Bash or Barbara Rankin Golf Classic then you definitely know Al. Al is one of our non-mentoring volunteers whose dedication and hard work have helped us to raise funds for our programs. We are thrilled to highlight Al and his hard work for our organization. Al's volunteerism with Big Brothers Big Sisters highlights the importance and impact of non-mentoring volunteer roles.
So we asked Al: why does he do it year after year? "I was hopeful in bringing my love and passion for golf to the annual golf tournament. I love being able to see how many people support the BBBS with their donations."
Al isn't just involved in these two events but assists us when we need help picking up donations or volunteering at an event. Almost any member of staff can speak to his support and enthusiasm for the things he does for Big Brothers Big Sisters of London and Area (BBBSOLA). We asked Al if there was a particular memory that stood out for him and he commented that, "I spent many hours cleaning, sorting and rolling coins thrown into a fountain at Masonville Mall. The end result was many thousands of dollars for BBBS."
Al is a great champion of this community and we are lucky to have him working with us. However, we aren't the only ones. Thanks to Al many local organizations have benefited. Al puts it best when he says, "I just want to help. The BBBS, the Grand Theatre, Brain Tumour Foundation,  WAYS, Mount Hope, Brain Injury, Pillar Non-Profit Network, Prostate Cancer, VON, Pro Musica, Brickendens, Eldon House, Community Living, the Unity Project, Annova. To name a few… they all inspire me."
It was no surprise to us that Al received the Governor General's Award for caring and volunteerism. Thank you Al for all that you do and continue to do for our agency.