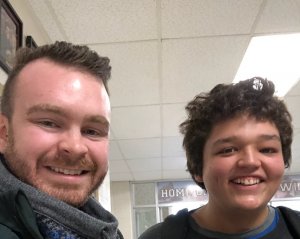 Big Brothers Big Sisters of London and Area could not run its programs or have its impact without the help of volunteers. Clayson has been a volunteer with BBBSOLA since 2015. He had heard about our organization through a previous mentor and really wanted to make a contribution to his community!
We asked Clayson to talk a little bit about his experience and the impact he has felt it has had, "As a Big Brother Mentor I spend around 3 – 4 hours a week with Aaron doing fun and enriching activities together. Activities we've participated in include: baking, cooking, playing video games, going to cafes, playing baseball/catch, working on my Little's resume, playing board games, going to the movies, rock climbing, mini-putt, and many more. I began to notice the impact my mentorship had on Aaron soon after being matched together. I saw parallels between both of our struggles with certain family issues. Through my mentorship, I have learned to be more patient and kind."
Wow, it goes to show that doing fun and simple activities can really help you learn from one another. When speaking with Clayson he made an awesome point that we wanted to highlight which is when you become a mentor you're not on your own! Our staff is always happy and eager to help in any way that we can. As he shared, "I sometimes found certain struggles in my own life making it hard to keep focused on quality time with Aaron but the staff at BBBSOLA was always there to council me and listen. It made it easier to focus on the match activities and is definitely one of my favorite aspects of BBBSOLA as an organization."
We want to thank Clayson for taking the time to share his thoughts with us and wanted to leave you with these words of his about why becoming a mentor is so important, "The mentorship program is a commitment well worth your time. The agency is very supportive and helps you along the way if you need."
Thanks Clayson!