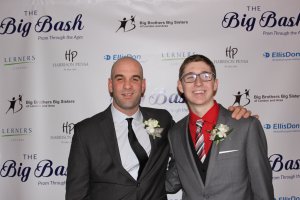 Some of you may already know Zac. He has been a huge advocate for Big Brothers Big Sisters of London and Area by speaking at a number of events and our Big Bash in 2017. We first want to thank him for his continued advocacy as well share how his match is a great example of how the mentor and mentee relationship can be so successful!
Zac shared his story with us and about how he became a Little Brother in 2012, "My mother decided to enroll me in Big Brothers in early 2012 in hopes to give me someone to aspire to. This is a decision I completely agreed with, after all, a guy can only be forced to get his nails painted so many times before losing his mind; my limit was 43. It was July 12th, 2012 when I met my Big and subsequently, my best friend."
It has been over five years since Zac and Wayne met and they have become inseparable. They like to remain active as sports has become a big part of their relationship. While Zac has gotten older, not much has changed, Zac shared, "So, now my favourite thing to do is to hang out with Wayne while drinking coffee and just talk. I love doing this so much because that is where good conversation happens. That is where we talk about our weeks, our lives and that is where I get advice on all things that I need help with. Over the years I have received great advice on numerous topics that have quite frankly changed my life, all for the better."
It may seem simple, but so many young people just want someone to talk too! Providing this opportunity helps them grow, develop and learn. Currently, we have over 200 young people on our waiting list for mentors. As Zac himself says, "Although it sounds sad, I am truly grateful. One true friend is more than most people have these days. Often people ask me where I would be without Wayne in my life, and quite frankly, I have no clue. I do not say that as any sort of cliché. I say that with 100% legitimacy. Wayne has been my best friend for the past five years and has always contributed positively in my life."
We want thank Zac again for all he has done for us and Wayne for all he has done for Zac. We hope his story inspires you to get involved and become a mentor!