$22,000!
To say we were blown away by the extraordinary enthusiasm and excitement for our Bake for Kids' Sake event would be a massive understatement.
A BIG thank you to our community – our participants, their supporters, our media partner (Bell Media), our committee volunteers and staff – for getting involved in this never-tried-before idea.
When we began planning this event, we wondered if a target of $3,000 would be achievable. It is hard to believe that we hit $22,000 (including the generous match from Canada Life).
In our opinion, all 25 participants were winners, but this was, after all, a contest and we did promise a winner (chosen by our Littles).
Drum roll…
Congratulations to Minnie Koteles from Team Flour Power for her unbelievable minion creation.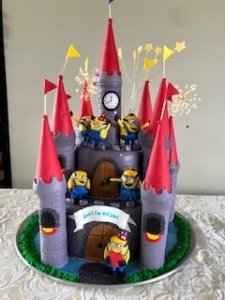 Here's a little more about Minnie and her cake as told by one of her biggest fans:
Minnie is a self-taught home baker who bakes from her heart – someone capable of creating something that would entice others to part with some of their scarce resources during these unprecedented times.
Never one to cut corners, the castle's lower level was constructed with a 4-layer homemade red velvet cake with strawberry custard filling. The upper level of the castle is a 3-layer homemade vanilla cake with yet more delicious strawberry custard filling. All the doors, windows, stars, ribbons, and water were handmade with rolled fondant. Under the red turrets are store bought sugar cones that can easily be broken off and filled with ice cream. Lastly, to satisfy everyone's sweet tooth, Minnie surrounded the moat with a ring of luscious green grass made of piped homemade butter cream icing. Yum!!!
After all this hard work, Minnie plans to distribute portions of the cake to Team Flour Power's donors. (She also donated her winning prize back to our organization.)
Minnie is one of those rare souls that elevates everyone around her. Much like when a "Little" is elevated through the efforts of Big Brothers Big Sisters.
Holy minions! Thank you, Minnie!
We would also like to recognize our top fundraiser, Matt Horst who raised an astonishing $2700 for this event. Thank you, Matt!
The success of this event has given our organization the boost it needs right now during this challenging time. This means that there will be more children and youth in our community whose potential will be ignited through our critical mentoring programs.
Thank you to all who participated, especially those who baked. Truly, all entries were extraordinary…