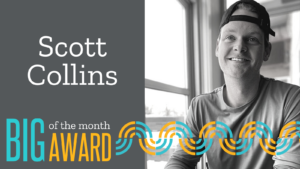 February's Big of the Month is Scott Collins! The wonderful friendship Scott has developed with his Little, Edward, is the kind we hope all our matches can create.
Supportive mentoring relationships like Scott and Edward's don't happen by accident; they are built intentionally. They happen when a Big shows their Little that they matter, pushes them to be their best, helps them to achieve their goals, treats them with respect, and helps them to expand their horizons.
Scott has consistently done all these things for Edward. He's done them by ensuring that he and Edward maintained regular contact throughout the pandemic. He's done them by exploring London with Edward and enjoying new experiences together. He's done them by helping Edward explore his post-secondary options and encouraging him to dream BIG for his future.
Scott's investment in Edward has paid off. Over the course of their match, Scott has watched Edward grow as a student, a big brother, a son, and as a person overall. Edward has gone from being someone who was unsure of his future to someone who believes in himself and his own potential.
Scott feels he has benefited from their relationship as well. He told us, "There is a ton of personal fulfillment knowing I'm being a positive influence on someone's life, and knowing that I have the ability to impact someone in such a positive way has motivated me to be more altruistic with everyone that I meet. You could say that Edward has just as big of an impact on me that I do on him and I'm extremely grateful for the friendship we have."
Thank you, Scott, for being an important part of our community!