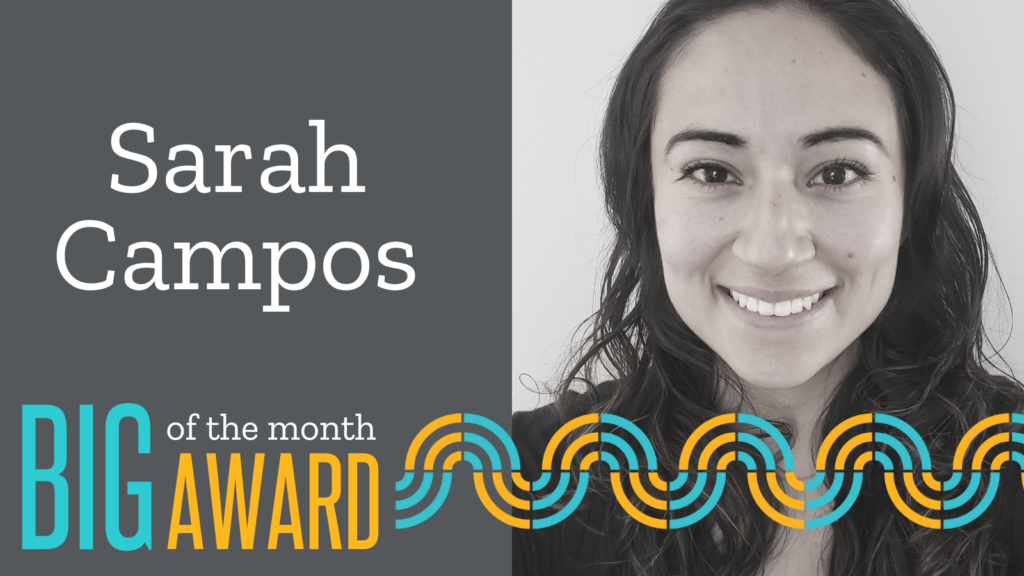 Becoming a Big is a huge commitment. You have to be very dedicated to your Little even when life hits you with something…well…something like a pandemic. Sarah's extraordinary dedication to her Little has come from a place of empathy. Here's what happened…
During the pandemic, Sarah was working as a fulltime nurse at the hospital. She was feeling extremely stressed and burnt out. It was around the time that her match with Emily was reaching its first-year anniversary. They were unable to see each other for months at a time and Sarah was seriously considering ending the match.
Then Sarah had a change of heart. (This is where the empathy comes in.) She put herself in the shoes of a young person trying to manage school and the uncertainty of everyday life.  She thought: if I'm struggling, imagine what they are going through. She "returned" to the match with renewed energy and commitment.
And isn't Emily lucky that she did!
Emily's possibilities have expanded because of Sarah. Sarah likes to "push the borders of Emily's fears" by encouraging her to try activities like the high ropes course at The Factory and jumping off the high-diving boards at The Aquatic Center. She seems to understand Emily and Emily's limitations. Last summer, at the Western Fair, she knew Emily desperately wanted to try the drop tower, but this time the activity was proving to be too much for her Little. Sarah, being the dedicated Big that she is, thought that if she went first, Emily might give it a try. She was right. Emily promptly got on the ride – and not just once, but three times!
In our opinion, this level of understanding in a mentoring relationship is what changes lives. It comes from a genuine ability to listen and a sense of empathy, both of which Sarah has developed through her own struggles and perseverance.
Thank you, Sarah, for the gift that you are to Emily. Especially the way in which you have expanded her possibilities. This is what it's all about!