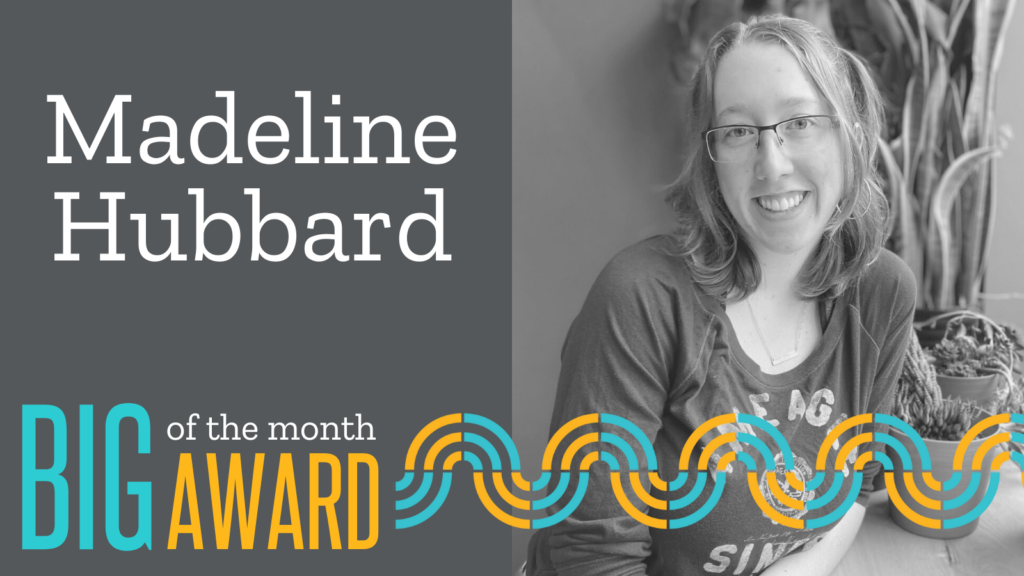 What does a young person do who finds themselves looking for volunteer work? They do what Madeline did. They comb the community for an organization with a vision that resonates with them. Here's Madeline's story…
Madeline decided to become a Big when she found herself missing being involved in volunteer work. She had previous experience volunteering with youth in the Ottawa area but had not yet volunteered in London. Madeline chose Big Brothers Big Sisters because our vision statement of supporting young people to realize their full potential resonated with her.
Madeline was matched with Little Brother Linton. She has positively impacted Linton's life by being a consistent and supportive presence.  Since they first began meeting virtually together she has watched Linton grow in his social and emotional competence. Madeline recalled when they first began meeting, "I would plan all the activities that we would do together. Now, Linton is comfortable suggesting activity ideas, and we decide together what activities we will do each meeting! Linton often teaches me how to play new games that he finds, and he always takes the time to help me out while I'm learning."
Being a Big has also helped Madeline to grow in her confidence as a mentor. As the youngest sibling in her family she wasn't able to have the experience of being a Big sister before. "When Linton and I meet, I feel like a big sister to him. As well, being a Big has allowed me to feel connected to the London community in a meaningful way. I have enjoyed getting to know Linton and establishing a developmental relationship, and I am excited to continue to watch him grow and learn!" said Madeline.