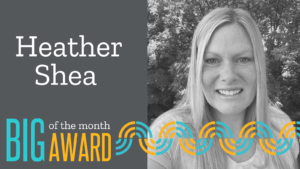 August's Big of the Month is Heather Shea. Heather was chosen because of the great care and commitment she has shown to her Little Alysse. Heather and Alysse have been matched since April 2017. With Alysse now heading to college, Heather still remains a prominent figure in her life.
Heather became a Big as a way to get more involved in the community. In the beginning they spent time together in person to help build their relationship. In the last couple of years they have shifted to long distance. Even with time apart, when the match gets together their relationship picks up right where it left off!
When asked how she has positively impacted her little's life Heather said, "Just being a constant in her life – someone who is there for her, respects her, and can be a listening ear when she needs it." Most recently Heather has been helping Alysse navigate post-secondary opportunities. They attended two of our 'Big Possibilities' sessions as well as a career workshop. "I have loved being an additional support for her journey as she enters College this fall and am so excited about the opportunities ahead for her!" said Heather.
Heather has had the rewarding opportunity of watching Alysse grow from a 12 year old into an adult. In the beginning their relationship was about trying new things and getting to know each other. As time went on it became a trusted friendship. "I love spending time with Alysse, sharing exciting news with each other, and continuing to spend time with each other both in person and through texting/calling.  She is a big and important part of my life!" said Heather.