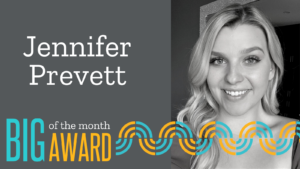 Jennifer was 19 when she was matched with then 9-year-old Leanna'Mae. Seven years has gone by, and as Jennifer puts it, "a lot of life has taken place since that time." It's during the tougher times in Leanna'Mae's life that Jennifer's extraordinary gifts as a mentor really shine through and show how special she is. She regularly tells Leanna'Mae, "You can do anything!" and is truly proud of everything her Little accomplishes.
Jennifer's determination to achieve her own goals has inspired Leanna'Mae to do the same. She says, Leanna'Mae has seen me overcome challenges, not give up when things are hard and accomplish goals that I set. I have seen her show this same type of resilience and drive." In fact, Jennifer has been such a positive role model that Leanna'Mae plans to follow in her footsteps and pursue criminology at university.
Jennifer's relationship with her biological big sister is what inspired her to volunteer as a Big, "My sister was a major supporter in my life and I wanted to be that person for someone else." Her strong desire to "be that person" is evident in her commitment to Leanna'Mae. Leanna'Mae's mom shared with us that, "Jennifer has never missed an important event in Leanna'Mae's life" and that "she has become part of our family."
When we asked Jennifer how being a Big has made a difference in her life, she said "I always enjoy my time with Leanna'Mae, and when I drop her back off at home, I leave feeling lucky to have her in my life." We have to say, we feel lucky to have Jennifer as part of our community.
Thank you Jennifer for all you do! It's a pretty, BIG deal.