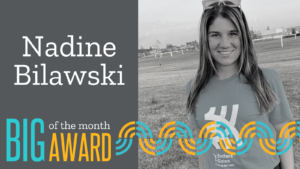 Nadine was chosen because she has been a Big for almost 7 years! After moving away from London, she still remains strong figure in her Little Rochelle's life. They still talk on the phone and have in-person visits regularly.
Nadine first became interested in volunteering when she moved to London. She was looking at different volunteer opportunities during her university program and came across Big Brothers Big Sisters. During the match process she was told Rochelle liked skateboarding. At the time, she enjoyed skateboarding too and took it as a sign that they would be a great fit.
During their 7 years together, Nadine has had an opportunity to watch her Little grow. She recalls the time when she and Rochelle were first matched back when Rochelle had just turned 7 years old. "She refused to go with me in my car for a visit in the community," said Nadine, "So we enjoyed our visits at her house or around her neighborhood. One time, her mom and I tried to encourage her to go to a London Lightning game with me, but she refused. When Rochelle was around eight years old, we planned to go to Adventures on Wonderland together. When I arrived at the house to pick Rochelle up, I was not sure if she would go with me. To my surprise, she marched out of her house with her backpack ready to go. It was the first time we went somewhere in my car together, and I was so impressed."
Being matched with Rochelle has had a very positive impact on Nadine's life. In addition to the adventures they've had together, Nadine has had the honor of attending Rochelle's grade 8 graduation, sports games and birthday parties. "Spending time with Rochelle, whether in person or virtual, has always made my day, and my life, better and brighter. I'm so thankful for our match, and I'm proud that I have known Rochelle for half her life. Rochelle is my Little, and she's also my best friend," said Nadine.