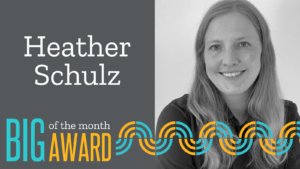 Heather Schulz is October's Big of the Month!
She was matched over a year ago with her Little, Joslyn, in the thick of the pandemic. At that time our matches were meeting virtually, so Heather had to go the extra mile to forge a strong friendship with Joslyn.
Heather came up with a ton of fun activities to do virtually with Joslyn (including a spa night, cooking and crafting) and made it work by dropping the supplies off at Joslyn's house before they were scheduled to hang out.
Once our matches were able to resume in-person meetings this pair had even more fun, doing things like a tree-top adventure, going for ice cream and having a campfire.
The commitment Heather has shown to Joslyn has paid off, the pair have been getting closer and closer as time goes on. Joslyn now says that Heather feels like a real big sister and Heather says seeing Joslyn feels like hanging out with a friend, rather than volunteer "work".
When we asked Heather why she became a Big, she said that she wanted to give back to the City she grew up in by supporting a child who needed someone to look up to.
Joslyn says their match is the BEST, and we have to agree.