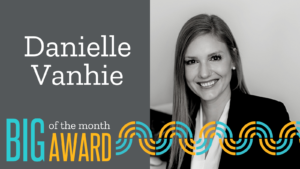 December's Big of the Month is Danielle Vanhie!
When a Big is consistent and reliable, it signals to their Little that they're a priority—that they matter. It builds their confidence and helps them develop trust in their Big. Danielle's incredible dedication to her Little is why we chose to recognize her this month.
Danielle and her Little Eli are part of our in-school mentoring program and were matched six years ago. Up until pandemic restrictions prevented in-school visits, Danielle travelled to Strathroy from London to meet with Eli each week. When in-school visits were no longer allowed, Danielle kept her connection to Eli strong by meeting with him virtually.
Danielle's commitment to Eli is also reflected in how persistent and intentional she has been in developing a relationship with him. When they first met, Eli was quiet and didn't want to do anything other than play video games. Danielle kept working at building his trust, and eventually her patience paid off. Eli's confidence has grown over the years, along with their friendship. Today when they get together, he often just wants to talk rather than do an activity, or even play video games.
When we asked Danielle about how being a Big has impacted her, she told us about how good it makes her feel knowing that Eli is excited to see her. She said, "Eli's teacher, principal, and even Nana, have told me how much he looks forward to our meetings. Even now, when we're meeting over zoom and he doesn't get to miss any class, he is still super excited to meet each week!"
Thank you Danielle for being a wonderful Big!