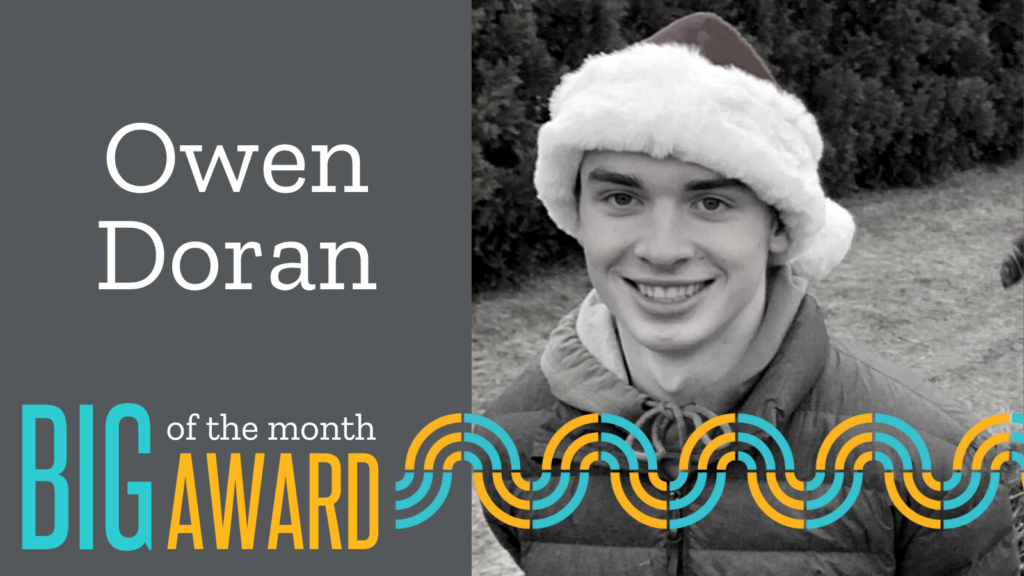 It does not take a long time to make an impact as a mentor. Big Owen has only been a mentor for two months and has already changed his Little's life for the better!
Owen is part of our in-school mentoring program. In this program, matches meet for one hour, once a week on school grounds. They decide what activities to do based on common interests.
Owen is great at organizing activities and puts excitement into whatever it is that he and his Little Brother are doing. He loves the energy his Little has and tries to match that energy.
One of Owen's favourite times with his Little was when they had a snowball fight in the school yard. It had recently snowed and the two were playing Frisbee. His Little picked up some snow and aimed it at Owen with a mischievous grin on his face. As the snowball hit Owen, he pretended to be struck down. His Little found this absolutely hilarious.
It is amazing how comfortable Owen's Little has become with him in such a short amount of time. That's because Owen expresses care and is so dependable. No wonder his Little's parents have mentioned how their son looks forward to his time with Owen each week. And no wonder the school has already asked if Owen can come back as a mentor next year!
We ask our matches to make a commitment of one year because sometimes it can take that long to create a deep and meaningful relationship. Then again, sometimes it can only take two months! Owen certainly is proof of that. Thank you, Owen, for the BIG difference you have already made in your Little's life.